Specials for February 2018
Seasonal Packages
The Seasonal Packages are specially created massage packages that reflect the season and particular holidays throughout the year.
First Time Clients
Mention this coupon when booking an appointment and bring it with you to receive a FREE $10 add-on with any service of an hour or more (cannot be combined with any spa packages).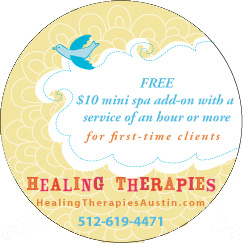 FREE 15 minutes of Massage
Get 15 minutes of massage FREE on your next appointment after you refer a friend, co-worker, or family member. The referral must come in for an appointment and note your name on the intake form. There is unlimited FREE minutes, to be used in 15-minute increments per appointment, so refer everyone you know.
Frequent User Series
You work hard at what you do, and taking care of yourself is important! With our frequent user series, you can purchase a series of 5, 10, or 15 massages (or any other service you want - series price will depend on price of service). We know that saving money is important and we want to thank you for your self-care on a regular basis, so you will find savings of 5% to 15%. Anyone in the same household can use the series and you have a whole year until expiration. You can also elect to give some of them away as gift certificates with a 6 month expiration.
Massages
5 X 60 minute
10 X 60 minute
15 X 60 minute

5 X 90 minute
10 X 90 minute
15 X 90 minute
Price
$403.75
$765
$1083.75

$546.25
$1035
$1466.25
Savings
$21.25 - 5%
$85 - 10%
$191.25 - 15%

$28.75 - 5%
$115 - 10%
$258.75 - 15%


Online Review Discount
Since the internet is such a vital place for business advertising, we would love for you to write a review of our services on our online business listings. We truly appreciate our client's referrals and would like to reward you for taking the time to write a review. We will give you an extra 15 minutes of massage added on to your next scheduled appointment for each review that you write.
Review discounts can only be used one-at-a-time. This offer is valid for only one confirmed review per business listing.
The links below will take you directly to our business listings where you can leave your review.
Yellowpages.com
Coming Soon
Choose Naturally
You can also find me at: MassageAustin.Net
"The premier source for all your massage needs in Austin"